From Camp to the Capitol- Thea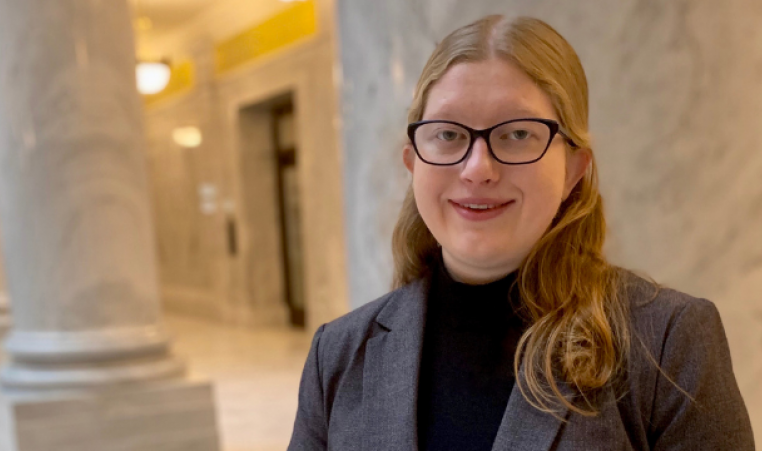 Did you know working at camp can help prepare you for your career? Check out how Thea was impacted and how working at camp helped her prepare for her work in the Utah capitol building.
When were you at camp and what your most recent role was?
I spent three summers at Camp Watia, most recently in 2019 as the Teen Development Specialist, meaning I was running the CIT and Raggers programs.
What you are up to now?
I'm in my home state of Utah, finishing up an undergraduate degree in Peace and Conflict Studies - because of the pandemic it's online, which is better than I expected it would be! I'm a teaching assistant for a class at my university about engaging with Utah's legislature, and I do some freelance political communication work. I'm also the policy contractor for a nonprofit, where I advocate ensuring that Utah's laws make it possible for everyone in the state to access the healthcare they need.
How did working at camp prepare you for the "grown-up" world?
Camp was an amazing way to prepare for the political advocacy I'm doing now. Every achievement in public policy starts with a network of trusting relationships with all sorts of people who have different motivations and beliefs. Among the Watia staff, there's a big mixture of people - everyone comes from different backgrounds and life stages. To become a cohesive team, you have to be your authentic self and place trust in others. It works the same way in politics. 
Another wonderfully transferable aspect of camp is learning about mentorship. Watia has so many informal and formal opportunities to be mentored and mentor others. As you find your footing at camp, you have to seek out people who can help you, then ask for their support, and trust that they're looking out for you. As a Raggers mentor, you learn to ask questions that set your mentees on a path toward the combination of curiosity and imagination that it takes to achieve meaningful goals. As a woman in politics, every day I apply skills from Watia to learn alongside my mentors and mentees in the policy world.
What advice do you have for a new staff member?
Watia campers (and CITs!) are amazing human beings. They will teach you so much about what it means to be a person, and you will never forget them. Inevitably, sometimes you'll be stressed and tired. First, ask for help from your fellow staff - they want to help you! Then remind yourself that you get to be part of the life story of all these fantastic young people. Take the time to rejoice in the fact that you are an essential element of a magical community of belonging, safety, and growth that your campers will remember for the rest of their lives.